Of the Fortune 500 companies that existed in 1955, only 12% remain in 2014, according to the American Enterprise Institute,
The other companies have either gone bankrupt, merged or still exist but have fallen from the Fortune 500 companies.
Innovation is the actualisation of potential. It is the process of using knowledge to add value to a product or service to expand into an existing market or to open up new markets.
Companies that fail to innovate often fail to grow.
Either, innovation is not on their radar or their competitors beat them to it.
Australian business is changing fast; innovation is now mainstream and no longer just for tech companies.
Developing an innovation strategy for your business is now crucial as you could be risking being left behind.
Consult with Edward to see how this can be avoided and how innovation can help your forge a unique growth path for your business.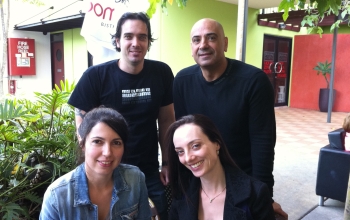 PLATFORM INNOVATION
Reduced diagnostic assay time from a multi-step two-hour assay into one-step 10-minute assay.
Advanced Technologies Division innovation team. Clockwise are Dr Scott Fry, Dr Edward Kachab, Dr Jennifer McCourt and Dr Rachel De Las Heras. Missing are Dr Charlie Huang, Dr Jun Li and Ece Arel.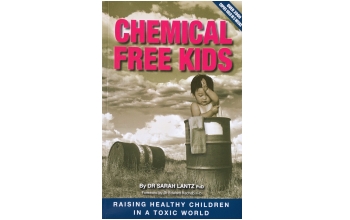 MARKETING INNOVATION
Book developed into a National Awareness Program attracting state and national partnerships and much media attention.
Average book sale for self-published books is usually under 1000 copies.
Book sold over 2000 copies during its first 5 weeks of release.
Became a national best seller with over 6000 copies sold.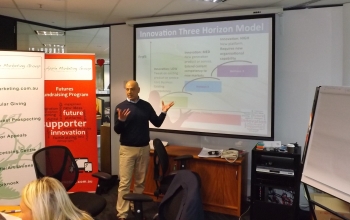 FUNDRAISING INNOVATION
Digital innovation and fundraising for the not for profit sector is an area of present focus for Dr Kachab.
Here Dr Kachab is delivering a workshop addressing innovation in fundraising for the not for profits.
AWARDS
2006
Offered an honorary appointment at the University of Queensland as a Conjoint Senior Lecturer due to a significant contribution to industry collaborative with the University.
2005
Received a $3.54 million dollar research grant from AusIndustry for innovation of a novel diagnostic platform.
2003
Received the Industry Research and Development Board of the Commonwealth Award for Business Excellence and Innovation for innovation in the development of a point-of-care test.
PATENTS
PANBIO LIMITED: PCT/AU2007/000508 (2007).
PANBIO LIMITED and CSIRO applicants: USA provisional application 60/406,973 (2002)
PANBIO LIMITED applicant: PCT/AU02/00450 (2002).
PANBIO LIMITED and WHATMAN INTERNATIONAL LIMITED applicants: WO 00/70012 (2000).
PANBIO Pty Ltd applicant: Provisional – PQ2249 (2000).

SCIENCE BASED
Programs are founded on
evidence based scientific
research and data.

PERSONAL
LEADERSHIP
Be empowered to lead at work
and in your personal life.

ACTION
Action based programs to
embed the learning and
produce sustainable results.

CONNECTION
Benefit from deeper
connections with work
colleagues and a more
collaborative workplace.